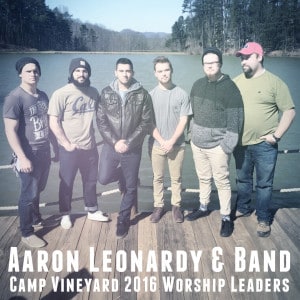 We're excited to announce that Aaron Leonardy and band will be leading worship for us at Camp Vineyard 2016!
This is an interesting group of guys. We intentionally don't book whole bands for worship at Camp usually, preferring to build a mixed team of teens and adults around a worship leader. However, these guys got on our radar by leading a mini-Worship Track at a retreat, writing a song with the kids, and practicing the Camp philosophy of training up young leaders!
And the band name? Don't worry about it. In their view, it's more important that they're serving the kids than posing for brick wall photos and arguing over logos and band names. It's kind of cool, actually. Sure, it makes writing announcements like this a little more difficult, but we think it represents something neat about the hearts that these guys have.
We're excited to have them lead worship for all of our sessions at Camp and lead our Worship Track – so, if you're a Camper who wants to learn more about being a part of a band and grow your skills as a musician, be sure you pick the Worship Track as your Neat! Group.
We've got less than a week to go for the Early Bird rate, and spots are going fast. If you haven't already, get registered!