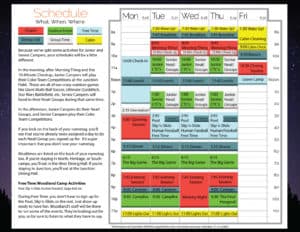 Click the schedule to see the large version! If you've been to Camp before, you already know what to expect. If this is your first time, you're going to have a lot of fun!
Also, we wanted to give everybody an update about the registration waitlist. At this point, we've filled all available beds, and we don't currently have a spot for anyone still on the waitlist. However, with just over 6 weeks to go, it's not time to break out the sad emojis just yet. There are always cancellations, and as spots open up we will be filling them with Campers from the waitlist.
We're going to do that on a first come-first served basis. So, if you'd like to remain on the list, you don't need to do anything. We'll notify you if a spot becomes available. If, on the other hand, you want to make other plans and be removed from the waitlist, we totally understand. Just let us know at info@campvineyard.com
As we get closer to Camp, we will update you on your status. If we're able to find a spot for you, you'll receive a registration confirmation email. If not, you'll get first dibs (like, before Early Bird even opens first dibs) on a spot in 2018.
If you're a Camper on the waitlist, your parent or group leader just got an email with this same update. If you have any questions, let us know at  info@campvineyard.com !